In a report published on Tuesday, February 25, on the assessment of the recovery (stabilization plan) and resolution (liquidation plan) plans of systemically important banks, the Swiss Financial Market Supervisory Authority FINMA considers that only Credit Suisse and UBS meet the legal requirements. In contrast, the contingency plans submitted by PostFinance, Raiffeisen and Zürcher Kantonalbank are incomplete and do not meet the legal requirements. As a result, these plans cannot be implemented if necessary.
Implementation of the Swiss too-big-to-fail regime is critically important to the stability of the financial centre. Our report on recovery and resolution planning is designed to create transparency about where we stand with regard to implementation
explains Mark Branson, Director of FINMA, who admits that the objectives set have not yet been fully achieved.
For example, FINMA considers that Raiffeisen and PostFinance have yet to submit a plausible plan for the establishment of the necessary funds to absorb losses in the event of a crisis. As for the Zürcher Kantonalbank, while its contingency plan cannot yet be implemented, it remains viable after some adjustments.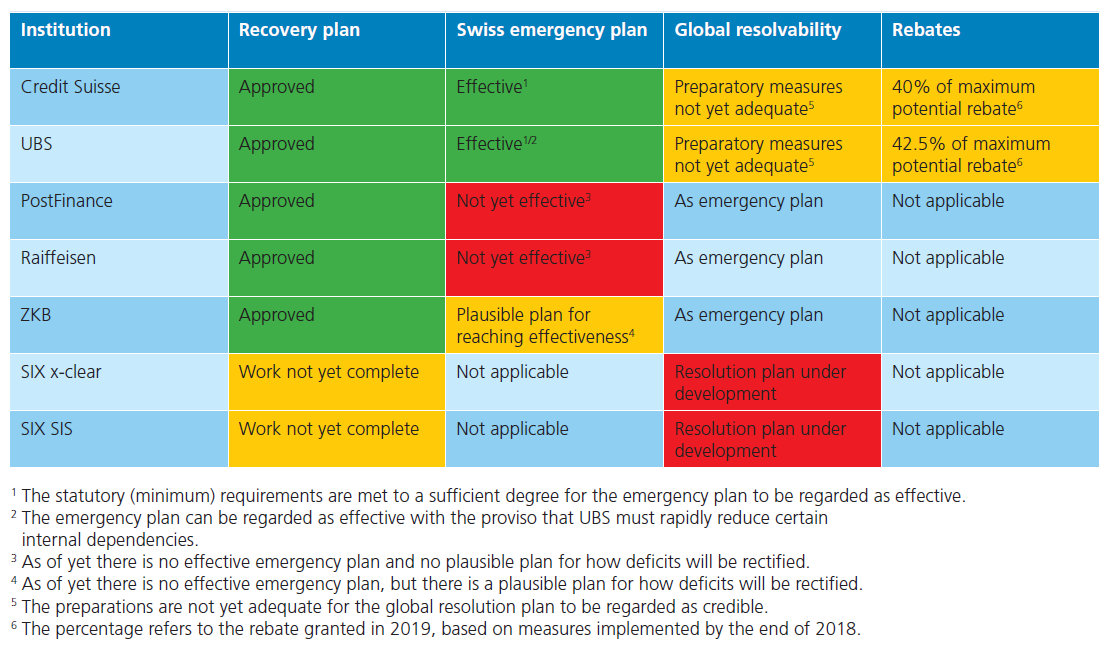 As a reminder, a recovery plan means that the systemically important financial institution presents the planned measures to stabilise itself in times of crisis so that it can continue its activities without state support. This plan must then be approved by FINMA. As for the resolution plan, it is drawn up by FINMA to explain how to carry out the reorganisation or liquidation of a "too big too fail" bank at national and international level. The Swiss contingency plan shows how systemically important banks intend to preserve their core functions in the event of a crisis. Finally, the global resolvability, or liquidation capacity, specifies the ability of a bank to be restructured or liquidated in a crisis situation.
Source : finma.ch (.pdf), finma.ch