The Swiss National Bank (SNB) introduced negative interest rates in 2014. Five years later, this monetary policy aimed at weakening the exchange rate of the Swiss franc does not seem to be coming to an end. But what do companies think about it? UBS conducted a survey of 2,500 entrepreneurs and executives in Switzerland to find out what they think about the impact of negative interest rates on their business.
First of all, the number of companies affected by these measures must be put into perspective. Indeed, only 80% of the companies surveyed export less than 10% of their production or do business only in Switzerland, and are therefore not directly affected by the exchange rates between Swiss, European and American currencies. But even though the majority of companies are not directly affected by this monetary policy and only a small proportion pay negative interest on their cash on deposit in banks, almost two-thirds of them believe that the cost of negative interest rates for the economy as a whole exceeds their profits. It is mainly importing companies that are penalised by a low franc. However, Daniel Kalt, Chief Economist at UBS Switzerland, points out that
the majority of companies exporting more than 50% of their production estimate negative interest rates to be globally harmful.
Other main concerns of the respondents included the financial situation of occupational pension provision and the low interest rate on savings.
Little hope for a rapid recovery of the Swiss economy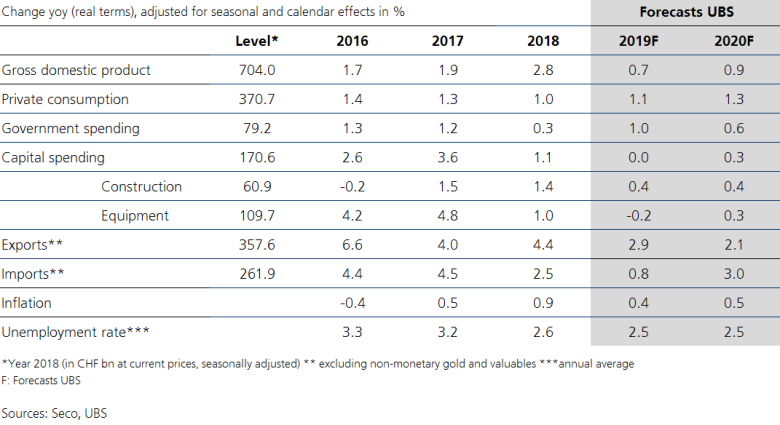 UBS is rather pessimistic about the economic outlook in Switzerland. A recession is possible, but it should be possible to avoid it according to the banking institution, which cites the dynamism of the labour market first. UBS economists predict a GDP growth of 0.7% this year and 0.9% in 2020, a rate insufficient to stimulate a rapid recovery of the Swiss economy, but which should prevent the market from falling too sharply.
Based on: ubs.com